Identification
Elevate your business with easy and secure onboarding
You can automate and fully digitize your key onboarding processes with itsme
. Get to know your new customers in just a few minutes and create the ultimate first impression.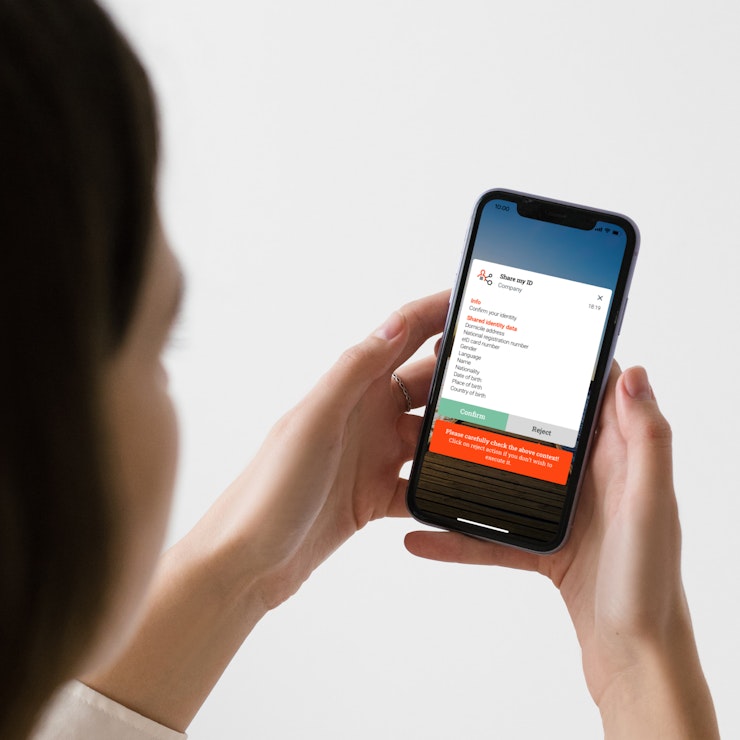 Know your customers made easy

Identify new customers with a simple click. With less time spent on filling out forms or scanning ID documents, you create a good first impression and people are less likely to drop out of becoming your customer.

Meet regulatory obligations

itsme

 offers identification services at the highest level of assurance and is compliant with EU regulations and industry standards. Onboard new customers while meeting high regulatory requirements – fast and secure.

Reduce costs

Reduce the cost of your customer acquisition by onboarding more users successfully with an easy-to-use and secure digital ID.
Onboard your new clients through the channel of your choice in a matter of minutes
User authorisation

The user choses to sign up with itsmeshare their ID-data with your business via itsme .  

, authenticates and transparently gives consent to

The data is securely transferred

The identification process happens through the OpenID connect protocol (Authorisation Code Flow).

A new user is created

Success! You now have now onboarded a new client.
Reliable data to verify the identity of your customers
itsme National ID card or passport and processes the following security and metadata:
is recognized and certified by eIDAS as an Identification means Level of Assurance high, so data shared with itsme is as reliable as it gets. The itsme identity Scheme derives identity data directly from a
First name
Name
E-mail
Phone number
Picture
Legal address
Nationality
Place of birth
Date of birth
Sex
eID card number
National Register Number
Device model
Device label
Device ID
OS
App name
App release
OS release
SDK release
Manufacturer
First name
Name
E-mail
Phone number
Picture
Nationality
Date of birth
Sex
ID document number
expiration date of the ID document
Device model
Device label
Device ID
OS
App name
App release
OS release
SDK release
Manufacturer
First name
Name
E-mail
Phone number
Picture
Nationality
Date of birth
Sex
ID document number
expiration date of the ID document
Device model
Device label
Device ID
OS
App name
App release
OS release
SDK release
Manufacturer
Compliant digital ID in an ever-changing digital society
As a Qualified Trust Service Provider (QTSP) and a certified Electronic Identification Means (LoA High), itsme
 offers identity and signing services at the highest level of assurance and security. We are compliant and always in alignment with current EU regulations and financial, KYC- and security guidelines.
eIDAS: identity with level of assurance high

itsmereliable means of identification with level of assurance high. The itsme app therefore fulfils the highest security requirements of eIDAS (European Regulation on electronic identification and trust services for electronic transactions).

has been officially recognised by Europe as a

eIDAS: Qualified Trust Service Provider

A signature with itsmeQualified Electronic Signature recognised by eIDAS and all EU Member States. This signature has the same legal value as a handwritten signature.

is a

ISO: ISO/IEC 27001:2013 certified

itsmemanagement of information security for the itsme app. This emphasises the high standard of availability provided by itsme services and the confidentiality and integrity of the user data.

is ISO/IEC 27001:2013 certified for the

EBA guidelines

itsme

works closely with the banking sector and is compliant with a series of uniform rules applied by the European Banking Authority (EBA).

PSD2 guidelines

itsmestrong multi-factor authentication and is fully compliant with the European PSD2 directive.

offers a mobile solution for

GDPR guidelines

The General Data Protection Regulation or GDPR comprises a series of rules designed to better protect the data of European citizens.

NIS directive

The NIS Directive is the first piece of EU-wide legislation on cybersecurity. It provides legal measures to boost the overall level of cybersecurity in the EU.

Anti-Money Laundering

We are compliant with Anti-Money Laundering (AML) regulations. These internationally endorsed global standards (endorsed by the FATF) help detect and report suspicious activity, including offenses involving money laundering and terrorist financing.

The Digital Operational Resilience Act (DORA)

DORA is a unified approach for mitigating all ICT-related incidents in Europe's financial industry. It replaces multiple ICT risk management frameworks and requires ICT Third-Party providers to conform to regulatory standards.
Be inspired by our customers
Discover and learn from our customers who trust itsme
 within their digital transformation. Join the ecosystem of more than 800 companies. Stay up to date with the latest trends and let's improve the digital experience of each citizen together.
Frequently asked questions about identification
Can I combine more than one itsme

service for my business?

Yes, itsme

is a Digital ID that provides a service for every step of the customer journey. It offers a unique combination of identification (sign-up), authentication (login), confirmation, and electronic signature. Many partners in different sectors have already adopted itsme at every important customer touchpoint in their business.

How much does identification with itsme

cost?

itsme[email protected] 

offers a price model that includes a fixed price for unlimited usage of itsme  for identification, authentication, and confirmation services based on the actual number of active users in a given calendar year. If you would like to have an offer for your company, please contact us via 

Does digital onboarding with itsme

comply with financial legislation and regulations?

Yes, the know-your-customers process is an important part of AML obligations, which enables financial businesses to identify their customers and understand their financial behaviour.

Can Dutch customers create an itsme

account?

Yes, Dutch citizens can create an account with their passport or eID trough NFC technology. If you are looking for a secure Digital identity that you can use across Belgium and The Netherlands, please contact us.
Resources
Would you like to know more about the itsme
ecosystem and the open ID connect standard? Deep dive into our product and the itsme identity scheme and get started today.
Technical integration documentation
itsme
created an open ecosystem that allows everyone to become a member of the itsme  Scheme. Read our technical information and learn how you can easily integrate our services.
Business information and guidelines
We will guide you on how itsme
works and how it will fit with your business needs.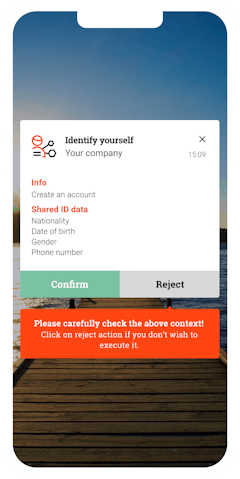 Talk to our experts to learn how itsme
identification can benefit your business

Our team is here to help and give advice. You can schedule a call with an expert to discuss your needs. Learn more about our product and what it can mean for your business.