Identification
Successfully onboard more customers
You can fully automate and digitize the enrolment of new customers. Get to know your customers in just a few minutes and create the ultimate first impression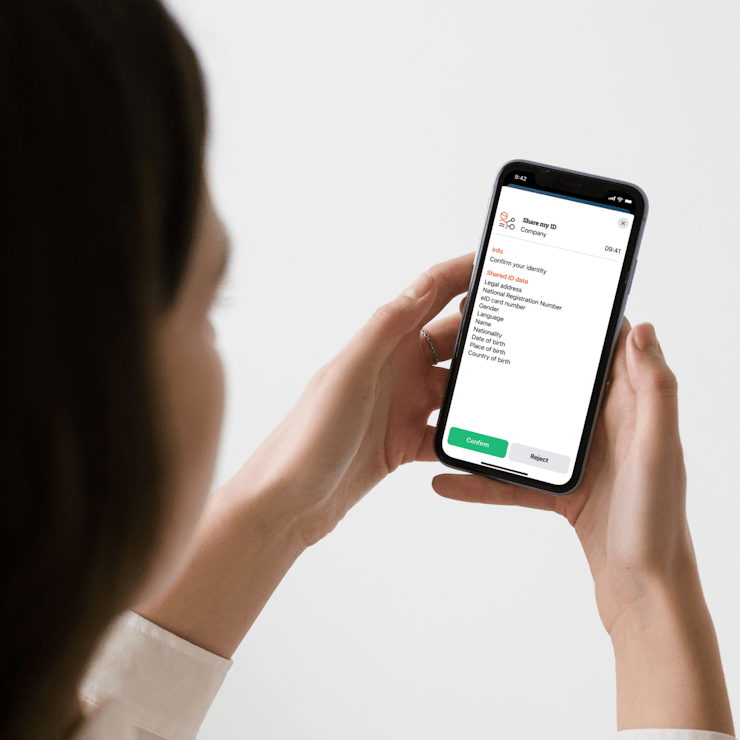 Know your customers made easy

Identify new customers with a simple click. With less time spent on filling out forms or scanning ID documents, you create a good first impression and people are less likely to drop out of becoming your customer.

Higher conversions

Cut down on customer acquisition costs by successfully onboarding more users. With itsme

, customer onboarding can result in up to 30% higher conversions rates!

Avoid fraud

Let customers in, and keep fraudsters out. itsme

offers reliable customer information and identity verification, in line with EU regulations and industry standards.

Meet regulatory obligations

itsme

offers identification services at the highest level of assurance and is compliant with EU regulations and industry standards. Onboard new customers while meeting regulatory requirements - fast and secure.
Onboard your new clients through the channel of your choice
User authorisation

The user choses to sign up with itsmeshare their ID-data with your business via itsme .  

, authenticates and transparently gives consent to

The data is securely transferred

The identification process happens through the OpenID connect protocol (Authorisation Code Flow).

A new user is created

Success! You have now onboarded a new client.
Reliable identity data and security data
Itsme
 retrieves data directly from ID cards or passports, which ensures that the data is reliable and consistent across different countries. However, the National Register Number, legal address and place of birth are not available in The Netherlands and Luxembourg.
First name
Name
E-mail
Phone number
Picture
Legal address
Nationality
Place of birth
Date of birth
Sex
eID card number
National Register Number
Device model
Device label
Device ID
OS
App name
App release
OS release
SDK release
Manufacturer
First name
Name
E-mail
Phone number
Picture
Nationality
Date of birth
Sex
ID document number
expiration date of the ID document
Device model
Device label
Device ID
OS
App name
App release
OS release
SDK release
Manufacturer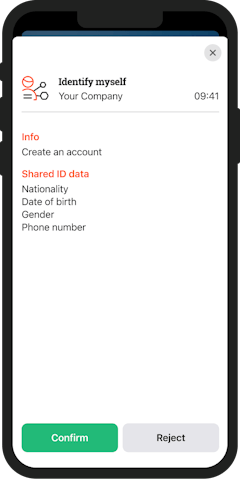 Talk to an expert
Our team is here to help and give advice.
Compliancy and certifications
itsme
 offers identity and signing services at the highest level of assurance and security. We are compliant and always in alignment with current EU regulations and financial, KYC and security guidelines.
identity with Level of Assurance High (eIDAS)

Qualified Trust Service Provider (eIDAS)

ISO 27001 Certified

General Data Protection Regulation

Payment Services Directive

Anti-Money Laundering

European Banking Authority

Network and Information System
How much does identification with itsme

cost?

itsme[email protected] 

offers a price model that includes a fixed price based on the actual number of active users in a given calendar year. If you would like to have an offer for your company, please contact us via 

Does digital onboarding with itsme

comply with financial legislation and regulations?

Yes, the know-your-customers process is an important part of AML obligations, which enables financial businesses to identify their customers and understand their financial behaviour.

Can citizens outside Belgium create an itsme

account?

Yes, Dutch and Luxembourg citizens can create an account with their passport or eID through NFC technology. More countries are coming up soon. Are you looking for a secure identity solution that you can use across Europe? Contact our team and let's discuss opportunities.

Is itsme

free for end-users?

Yes, everyone with a Belgian, Dutch, or Luxembourg ID document can download the itsme

 app for free in the App Store, Google Play Store and Huawei AppGallery and install it for free.