E-signature
The highest level of security
itsmequalified electronic signature (QES) and therefore has the same legal value as a handwritten signature. But without all the paperwork: the signature is securely completed, saved, and digitally stored in minutes.
Sign is a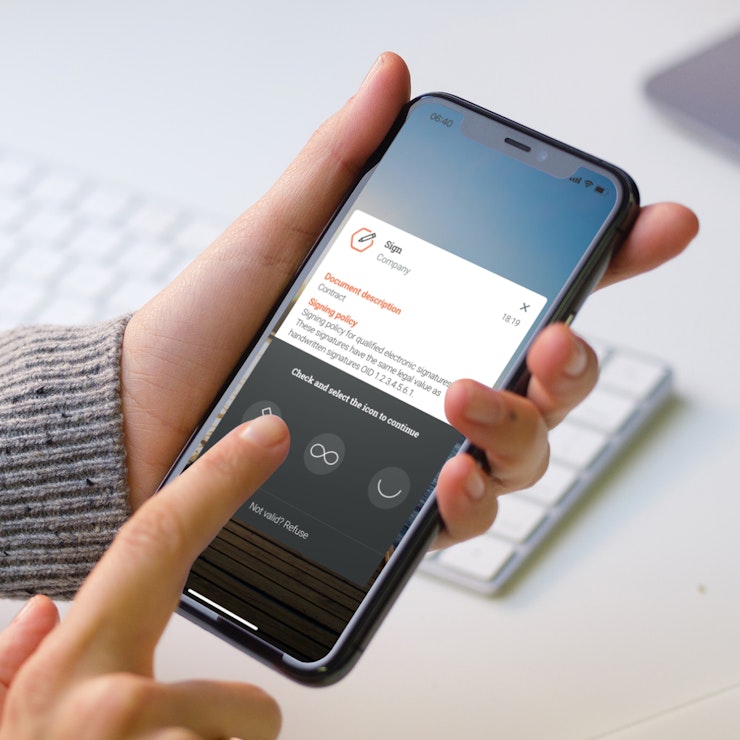 Convenient

Printing, scanning and manually signing documents is not efficient and the signature loses its value. With itsmesign with their smartphone.

 everyone can legally

Cost-effective

With our competitive pricing and our accessible app, it's easy and affordable to sign any document electronically. And you save on work costs and paperwork!

Secure

Signing with itsmehighest security level. Our signature is recognized in every European member state.

 operates at the

Available on every platform

itsmemajor European and international signature platforms.

handles the e-signatures itself and is available in almost all the
How your customers sign with itsme
Pricing Adobe Acrobat Sign
Our pricing varies based on each platform's specific pricing and offers. When using the Adobe Acrobat Sign platform, itsme Sign is offered directly by itsme . Below are the pricing details for this service:
More about itsme
Sign

Explore the success stories of our customers, uncover the latest features, and understand the ways in which itsme

Sign can enhance your business.
Frequently asked question about sign
How much does itsme

Sign cost?

itsmepricing and offers.

Sign is offered as a QES signing method on different document and electronic signature platforms. Please contact us for

What kind of e-signatures are there? Do they all have the same value?

Unlike signing on paper, there are several ways to sign online and not all benefit from the same level of security or have the same legal value. eIDAS defines three types of electronic signatures: simple electronic signature, an advanced electronic signature (adES), and qualified electronic signature. This last one is the signature with the highest level of security. It is also the only electronic signature type to have special legal status in EU member states. Qualified Trust Service Providers, such as Belgian Mobile ID for itsme, are allowed to provide Qualified Electronic Signatures and are recognized in every EU member state.

At this moment itsme

only supports signatures by natural persons. itsme does not support seals by legal persons.

Is itsme

free for end-users?

Yes, everyone with a Belgian, Dutch, or Luxembourg ID document can download the itsme

 app for free in the App Store, Google Play Store and Huawei AppGallery and install it.

Can you sign multiple documents with one digital signature?

Thanks to the batch signing feature of itsme you can now simplify the signing of multiple documents while keeping the guarantee of having a Qualified Electronic Signature on each document. 

 

Can Dutch citizens sign with itsme

Yes, Dutch citizens can place a Qualified Electronic signature with their itsme

app.