Confirmation
Confirm online transactions safely and easily
The itsme
confirmation service is mostly used among financial institutions. It is in line with the European PSD2 directive, and it provides a very user-friendly approach to Strong Customer Authentication (SCA).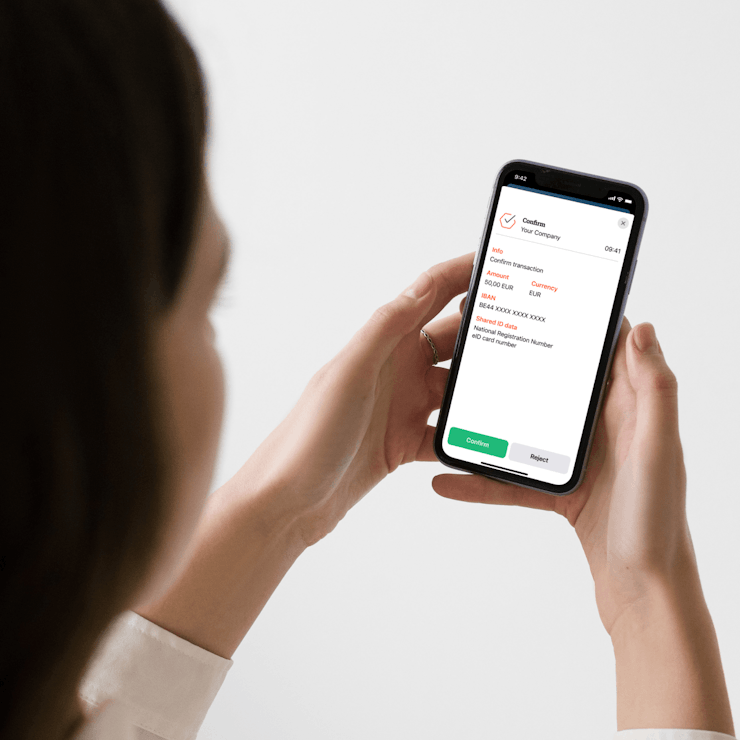 Alternative to card reader

An easy payment confirmation with a proven success rate in reducing fraud and bank credential theft. The details of the transactions and the data shared are always very clear.

Compliant

Put extra layers of security on your services with the itsmefully compliant with PSD2 directive and other financial guidelines (AML/FAFT/ EBA).

confirmation,

Less drop-out

Easier transactions lead to fewer dropouts. And those satisfied customers are more likely to come back again more often.
Are you compliant with PSD2?
Having a Strong Customer Authentication (SCA) is required for all electronic payment services in order to make payments more secure and to improve consumer protection against fraud. A SCA requires means of authentication that uses at least two of the following elements:
Something the customer has

Such as their smartphone and the installed itsme

app.

Something the customer is

Confirm an action with biometrics such as fingerprint or FaceID.

Something the customer knows

Such as the personal itsme

code that has 5 numbers and only they know.
Secure payment confirmation
By enabling multi-factor authentication, itsme
offers additional layers of security to electronic payments. We are a certified electronic identity (eIDAS) with Level of Assurance High. With itsme you can verify the identity of your customers whilst ensuring data privacy and security standards are upheld.
Clear consent mechanism
The smooth and crystal-clear way of confirming or refusing online purchases: every action with itsme
is fully transparent and in line with GDPR regulations. the customers know exactly what data they will be sharing and with whom.
Dynamic linking
With an itsmeeach transaction is linked to its amount and the recipient of the payment. The action is clear for the customer and none of the details can be altered, preventing social engineering attacks.
confirmation, more contextual information on the transaction is shared. Every action has a unique authentication code and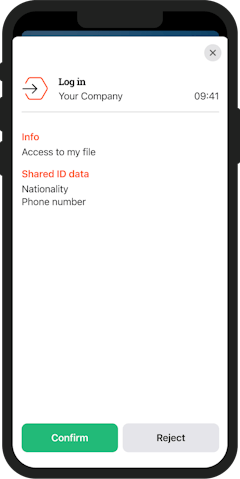 Talk to an expert
Our team is here to help and give advice.
Compliancy and certifications
itsme
 offers identity and signing services at the highest level of assurance and security. We are compliant and always in alignment with current EU regulations and financial, KYC and security guidelines.
identity with Level of Assurance High (eIDAS)

Qualified Trust Service Provider (eIDAS)

ISO 27001 Certified

General Data Protection Regulation

Payment Services Directive

Anti-Money Laundering

European Banking Authority

Network and Information System
Frequently asked questions about confirmation
Is itsme

free for end-users?

Yes, everyone with a Belgian, Dutch, or Luxembourg ID document can download the itsme

 app for free in the App Store, Google Play Store and Huawei AppGallery and install it for free.

How much does confirmation with itsme

cost?

itsmecontact us.

offers a price model that includes a fixed price based on the actual number of active users in a given calendar year. If you would like to receive an offer for your company, please

Why do I need strong customer authentication?

SCA, or Strong Customer Authentication, is a regulation implemented under the Revised Payment Service Directive (PSD2). This directive requires customers to verify their identity before any payment information can be shared between a financial institution and a third-party provider.

I'm not a bank, can I also use this service?

The confirmation service is mostly used by banks and other financial institutions because it offers the highest security and compliance. But it can also be used to confirm orders, for online shopping, or other scenarios where extra authentication is important. Don't hesitate to reach out and discuss other possibilities. Contact us.

Can citizens outside Belgium create an itsme

account?

Yes, Dutch and Luxembourg citizens can create an account with their passport or eID through NFC technology. More countries are coming up soon. Are you looking for a secure identity solution that you can use across Europe? Contact our team and let's discuss opportunities.