Qualified Electronic Signature
In a digital world people expect a digital way to sign
Introducing e-signature is an important step in digitizing your paper workflow and optimizing your business processes. Sign documents and business agreements easily with the itsme
legally-binding Qualified Electronic Signature.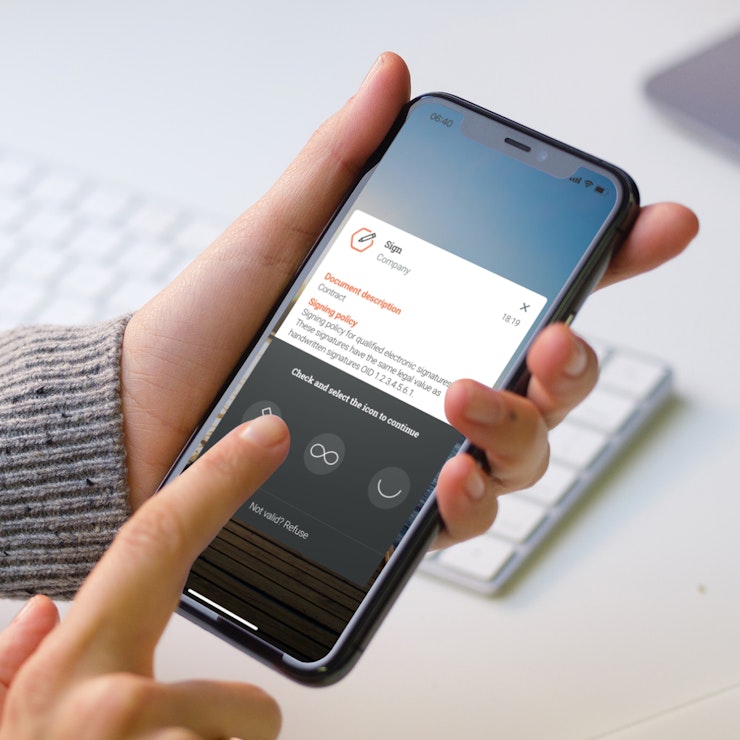 Simplify your business

Printing, scanning and manually signing documents is not efficient and the signature loses its value. With itsme

everyone can legally sign with their smartphone. Less administration, less hassle, and more time doing actual business.

Highest security

Security is the key to everything we do. itsme

is ISO27001-certified, an eIDAS Qualified Trust Service Provider (QTSP), and respects GDPR, resulting in the best possible protection of your data and your signature.

Multiple documents

With itsme

Sign, you can sign multiple documents simultaneously, using a single digital signature (=batch signing). Every document has a signature and each signature remains unique.

Sustainable future

Working from home is the new normal but not everyone has or wants a printer. With a digital workflow and e-signatures, you will make a clear statement: no unnecessary paper usage or printing. With itsme

Sign, your business is future-proof.
How your customers sign with itsme
Compliancy
Compliant digital ID in an ever-changing digital society
As a Qualified Trust Service Provider (QTSP) and a certified Electronic Identification Means (LoA High), itsme
 offers identity and signing services at the highest level of assurance and security. We are compliant and always in alignment with current EU regulations and financial, KYC and security guidelines.
eIDAS - digital ID with Level of Assurance High

eIDAS - Qualified Trust Service Provider

ISO 27001 Certified

General Data Protection Regulation

Payment Services Directive

Anti-Money Laundering

European Banking Authority

Network and Information System
More about itsme
Sign

Explore the success stories of our customers, uncover the latest features, and understand the ways in which itsme

Sign can enhance your business.
Solutions
A signature solution for every industry or department.
The digital signature is proving to be essential in today's digital world. From departments that use qualified signatures to legally bind their agreements, to companies that want to accelerate their customer processes: the itsmegovernment and private institutions.
qualified electronic signature is already used by many companies across all sectors and by both
HR
Government and semi-government
Liberal professions
Real estate
Mobility
Utilities
Law
Healthcare
Bank and finance
600 + companies that sign with itsme®
1,300,000 + signatures
Frequently asked question about sign
How much does itsme

Sign cost?

itsmepricing and offers.

Sign is offered as a QES signing method on different document and electronic signature platforms. Please contact us for

What kind of e-signatures are there? Do they all have the same value?

Unlike signing on paper, there are several ways to sign online and not all benefit from the same level of security or have the same legal value. eIDAS defines three types of electronic signatures: simple electronic signature, an advanced electronic signature (adES), and qualified electronic signature. This last one is the signature with the highest level of security. It is also the only electronic signature type to have special legal status in EU member states. Qualified Trust Service Providers, such as Belgian Mobile ID for itsme, are allowed to provide Qualified Electronic Signatures and are recognized in every EU member state.

At this moment itsme

only supports signatures by natural persons. itsme does not support seals by legal persons.

Is itsme

free for end-users?

Yes, everyone with a Belgian, Dutch, or Luxembourg ID document can download the itsme

 app for free in the App Store, Google Play Store and Huawei AppGallery and install it.

Can you sign multiple documents with one digital signature?

Thanks to the batch signing feature of itsme you can now simplify the signing of multiple documents while keeping the guarantee of having a Qualified Electronic Signature on each document. 

 

Can Dutch citizens sign with itsme

Yes, Dutch citizens can place a Qualified Electronic signature with their itsme

app.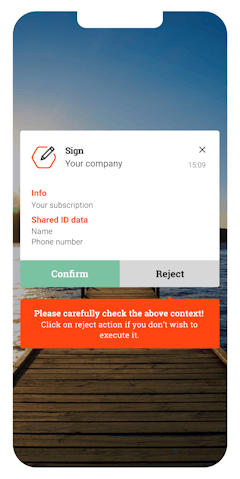 Discover how itsme
Sign can benefit your business

Our team is here to help and give advice. You can schedule a call with an itsme

expert to discuss your needs. Get to know more about our product and the different document and signing platforms.